We've tried to ensure the information displayed here is as accurate as possible. Should there be any inaccuracies, we would be grateful if you could let us know at info@ipohworld.org . All images and content are copyright.
(Please click on the thumbnail for a bigger image.)
Police Station In Kampung Simee
Thumbnail :
---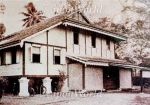 Subject :Police Station in Kampung Simee
Source :
Royal Malaysian Police Museum, Kuala Lumpur
Remark :
This photograph shows the police station in Kampung Simee, which was built in 1948. Kampung Simee is a small Chinese village in Ipoh town, which was one of the New Village programme during Emergency period.

During the Emergency, Lieutenant-General Sir Harold Briggs, as the Director of Operations, conceived an ambitious resettlement programme, known as 'The Briggs Plan'. The purpose of this plan was to undermine Communist Min Yuen and cut them off from the rural settlers who were the source of food, money and information as well as recruits. 'The Briggs Plan', deemed as the largest and most important social engineering project in South East Asia since the war, regrouped and transferred about a million Chinese rural dwellers into over 600 new settlements. In Kinta, an estimated 106,889 people were relocated into 34 New Villages.

In these 'Resettlement Villages', all the houses were arranged in straight rows in a compact and regular layout. The villages were surrounded by preimeter fences of double-barbed wire some ten feet high and 30-45 feet apart, to prevent villagers from throwing food over the fences to the Communists. The villages were monitored by means of police units and watch towers and brightly lit at night by mercury vapour lamps. Curfew orders issued by local police stations instructed members of the public to remain indoors between the hours of 6pm and 6am.