We've tried to ensure the information displayed here is as accurate as possible. Should there be any inaccuracies, we would be grateful if you could let us know at [email protected] . All images and content are copyright.
(Please click on the thumbnail for a bigger image.)
The Victory Parade - Part 1 - A Military Band And The SMI Army Cadet Force Contingent
Thumbnail :
---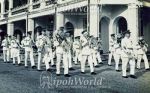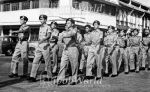 Subject :The Victory Parade - Part 1 - A Military Band and the SMI Army Cadet Force Contingent
Source :
Brother Vincent Corkery, SMI, Ipoh
Remark :
Although the Japanese surrendered in 1945, the situation across the world was to get back to some sort of normality which was first priority and consequently the formal Victory Parades to mark the end of the conflict were not held until 1946 although the MPAJA (Malaysian People's Anti Japanese Army) did organize parades of their own across the towns and villages of Malaya on 2 December 1945.

The largest of the Victory Parades took place, not unexpectedly, in London on the 8th June 1946. Contingents of the Malay Regiment and the MPAJA marched proudly through the city's streets that day, representing the Federation alongside all those other nations who took part in the war.

However, back at home Victory Parades had, by that time, already taken place in many of the towns of the Peninsula and the above photographs show an unknown military band leading the parade (left) and the Army Cadet Force of St Michael's Institution on the right, marching through the streets of Ipoh on (what we believe was) 6 January 1946.

To go to Part 2, click here.

To see a photograph of one of the MPAJA Victory Parades and find out more about MPAJA, click here.

To read more about St Michael's Institution, click here.