We've tried to ensure the information displayed here is as accurate as possible. Should there be any inaccuracies, we would be grateful if you could let us know at info@ipohworld.org . All images and content are copyright.
(Please click on the thumbnail for a bigger image.)
A Handwritten Christmas And New Year's Greeting
Thumbnail :
---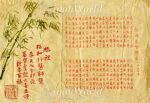 Subject :A Handwritten Christmas and New Year's Greeting
Source :
Ian Anderson, Ipoh
Remark :
This is a Chinese handwritten Christmas and New Year 1957 greeting with hand-painted bamboo motives above the greeting. It is addressed to Doctor Jao-zhin Sing and family. On the right printed is a poem glorifying the birth of Jesus Christ.