We've tried to ensure the information displayed here is as accurate as possible. Should there be any inaccuracies, we would be grateful if you could let us know at info@ipohworld.org . All images and content are copyright.
(Please click on the thumbnail for a bigger image.)
Opium Bed For The Working Man
Thumbnail :
---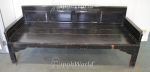 Subject :Opium Bed for the Working Man
Location :
Taiping, Perak
Source :
Ian Anderson, Ipoh / Tenby Schools, Ipoh
Remark :
While opium dens are often pictured with rows of coolies lying on bamboo mats, opium beds were also commonly used in the better class dens and private homes. The quality of the bed would vary very much with the financial standing of the house with elegant carvings, silk canopies and gilded characters extolling the virtues of the drug. However, the image above shows a very plain bed, just about 6 feet long. Clearly this did not come from a rich home. In fact it came from a shophouse in Taiping where it had stood for many years as a simple piece of furniture for there had been no smoking in that house since the grandfather passed away. We are pleased to have it in our collection.

To see a silver opium pipe and ceramic damper, click here.