We've tried to ensure the information displayed here is as accurate as possible. Should there be any inaccuracies, we would be grateful if you could let us know at info@ipohworld.org . All images and content are copyright.
(Please click on the thumbnail for a bigger image.)
Heng Kee Paper Merchants
Thumbnail :
---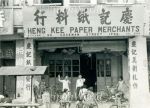 Subject :Heng Kee Paper Merchants
Location :
26, Cockman Street, Ipoh
Source :
Ian Anderson, Ipoh
Remark :
Ngai C O told us that:
Heng Kee once sold paper products, which were burnt in Taoist prayer offerings; now the same shop has a new name - Perniagaan Zin Xin.
Ipoh Remembered also adds:
"This block of shop-houses was designed by the firm of Keys & Dowdeswell, which was also responsible for the Mercantile Bank building on Station Road, the Times of Malaya building on Brewster Road, Lam Looking's building on Laxamana Road, the Turf Club's grand-stand, and so on.

I wonder if the chimneys are still in use: I suppose the original kitchens are not there any more.

The spiral stair-cases were there to comply with fire regulations. I don't think they are common in Ipoh, though.

And yes, the block was designed in a Neo-Classical style, featuring both Greek and Roman forms and motifs."
We thank our two blog readers for the above information.
If anyone has more information about Heng Kee Paper Merchants, do let us know.