We've tried to ensure the information displayed here is as accurate as possible. Should there be any inaccuracies, we would be grateful if you could let us know at info@ipohworld.org . All images and content are copyright.
(Please click on the thumbnail for a bigger image.)
More Receipts (1)
Thumbnail :
---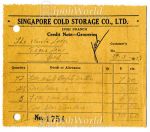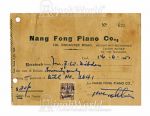 Subject :More receipts (1)
Source :
Ian Anderson, Ipoh
Remark :
Here we have some vintage invoices/credit notes/receipts showing how business operations worked in the past, including sales, purchases, and deals, for a variety of companies and eras, thus giving us a visual snapshot of life in the old days.
From the left,
1. A sales slip issued by The Universal Store of 4, 6 & 8, Foo Choo Choon Street, Ipoh. The handwritten date is unrecognizable except for the year 1953.
2. On 19th March 1953, Singapore Cold Storage Co., Ltd. (Ipoh Branch) issued a credit note No. 1754 for groceries purchase to the Kinta Lodge of Tiger Lane, Ipoh. The note was signed and recorded the payment of $19.60 for a variety of items purchased.
Cold Storage is a supermarket chain in Singapore, owned by Dairy Farm International Holdings. Established in 1903, Cold Storage started as a small depot storing and selling mainly frozen meat from Australia. It operates three supermarket brands in Singapore and Malaysia; Cold Storage (in Singapore, Malaysia and Indonesia), Market Place (in Singapore) and Giant Hypermarket (in Singapore, Malaysia, Brunei, Indonesia, Vietnam and UAE).
3. Dated 14th June 1952, this receipt No. 675 was issued by Nang Fong Piano Co., 180, Brewster Road, to an unknown recipient (due to the unrecognizable handwritting) confirming his/her bill payment of $20 with cheque. The receipt has a 4 cents Malaya stamp affixed to it.
4. This cash sale note suggested that Ban Seing Teik, General Merchants which was located 28 & 30, Hugh Low Street, Ipoh had charged a total of $43.00 for a 24 yard white table cloth which was sold on 2nd October 1961.
5. This is a mysterious receipt issued by Sin Thean Kee, No. 5, Market Terrace, (New Town,) Ipoh, Perak (tel no, 1246) on 12th September 1952 to an unknown customer for his/ her purchase of an unknown item which cost $3.60.
Having been a crockery merchant for more than 40 years, Sin Thean Kee is still in business today as an active retailer of kitchenware, cookware, glassware, tableware etc. Click here to find out more about it.
6. On 8th December 1952, Khiam Thye Hardware Dealers (43 Hugh Low Street) issued a receipt no. 2648 to its customer for $4.50 worth of items purchased.