We've tried to ensure the information displayed here is as accurate as possible. Should there be any inaccuracies, we would be grateful if you could let us know at info@ipohworld.org . All images and content are copyright.
(Please click on the thumbnail for a bigger image.)
Press Cutting - A Working Ode To Printing - Star Printing Works
Thumbnail :
---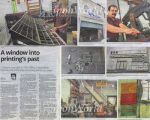 Subject :Press Cutting - A Working Ode to Printing - Star Printing Works
Published By :
Star Media Group Berhad/ Sin Chew Jit Poh
Source :
Charlie Choong, Ipoh
Remark :
These two articles feature the Star Printing Works of Ipoh, one in English and the other in Chinese
Star Printing, in Belfield Street was founded in 1933 and has become a sort of unofficial museum of printing as it still has all the old printing machines and type etc that dates back to its inception and provides a look back into the mysteries of printing before technology took over.
Both articles have a wealth of photographs of the equipment on view.
A very similar enterprise, Wai Oi Shiah Printing Presses, closed dowm in 2017 after 100 years of operating at 25 Panglima Street Ipoh.