We've tried to ensure the information displayed here is as accurate as possible. Should there be any inaccuracies, we would be grateful if you could let us know at info@ipohworld.org . All images and content are copyright.
(Please click on the thumbnail for a bigger image.)
Common Lodging House License
Thumbnail :
---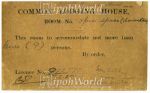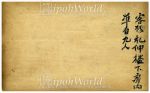 Subject :Common Lodging House License
Location :
Hume Street, Ipoh
Source :
Charlie Choong, Ipoh
Remark :
The photograph in this entry is that of a license issued by the Kinta Sanitary Board on the 17th of February 1920 to the Common Lodging House located at No. 13, Hume Street, Ipoh. This was for the open space on the ground floor of the building where it says the particular space was to accommodate not more than nine (9) persons.