We've tried to ensure the information displayed here is as accurate as possible. Should there be any inaccuracies, we would be grateful if you could let us know at info@ipohworld.org . All images and content are copyright.
(Please click on the thumbnail for a bigger image.)
Loke Yew
Thumbnail :
---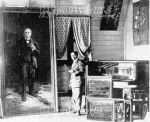 Subject :Loke Yew
Source :
Ipoh Remembered (Photos and PDF)
Remark :
Born Wong Loke Yew on 9th October 1845 in Dongjiang Village (Guangdong Province, China), he was the only son of four siblings. Growing up in a humble peasant family, Loke Yew helped his father in the farm. Later, with the hope of seeking a more prosperous future, an ambitious Loke Yew (who was 13 at that time) left for Singapore. He arrived in Singapore in 1858 and worked at KwongMan General Store (a food provision shop at Market Street). He earned $20 a month, and managed to save up to $99 after four years. He then used this as capital to start up his own food provision store - Tong Hing Loong.
In 1867, after appointing a manager for his Singapore businesses, Loke left for Perak. His ventures in Perak were assisted by two headmen from Larut: Chang Kam Chong and Ng Sow Swee. Unfortunately, his tin mining investments were affected by the Larut Wars. The British in Penang then sent Ghurkha troops to Perak to restore order. Having had experience in food supply, Loke Yew secured a contract to supply food to the British troops. After the Larut Wars he spent fifteen years in Perak, engaging in tin mining activities.
During the first four years he suffered losses; later there came an opportunity to revamp his tin mining investment strategy, when a new mining site was discovered in Kinta Valley. He had a successful establishment in Kinta - having expanded to Gopeng, Kampar and Tanjung Malim. He became wealthy as a result of the profits from his successful investments. However, his monopoly in the Perak Government's revenue farms expired in 1905. This was due to 'competition' from other wealthy Chinese merchants like Chung Thye Phin, Ng Boo Bee, Foo Choo Choon and so on. Loke Yew later left Perak.
Incidentally, after the Larut Wars the British Government (in Malaya) encouraged the mercantile community to rebuild the economy in Selangor. Loke Yew established a pawnshop in Kuala Lumpur then, and in 1913 he founded Kwong Yik Banking Corporation Limited. In 1916 he was elected Chairman of Kwong Yik (Selangor) Banking Corp. Ltd. Prior to that (in 1904), Loke Yew became President of the Selangor Chinese Chamber of Commerce.
On 1st May 1915, he was Knighted with the Companion of the Order of St Michael & St George (CMG). This award was presented to him by the High Commissioner Sir Arthur Henderson Young at the Kuala Lumpur Town Hall. In recognition for his philanthropic gestures, the Hong Kong University invested Loke Yew with the honorary degree of Doctor of Law (LL.D) on 14th January 1917; Loke Yew was invested in his own home by Sir Charles Elliot (the Vice-Chancellor), witnessed by Sir Edward Brockman.
Loke Yew died of malaria on 24th February 1917, and was buried at Hawthornden Estate - a rubber estate he owned in Setiawangsa (north east of Kuala Lumpur). He had four wives, seven sons (six his own, one adopted) and four daughters. Loke Yew also had five grandsons and seven granddaughters.
The above is extracted from "Overseas Chinese in the British Empire".
The first two pictures show Loke Yew in his academic gown, following his award from the Hong Kong University. This gown was said to be purple, with a green hood and a black cap.
The gentleman in the third picture is Low Kway Soo (circa 1921); Low was an artist who was commissioned to paint a life-size portrait of Loke Yew.
The fourth picture shows Low in his studio, with his masterpiece.
Click the pdf link for more information about Loke Yew, and the pictures.
Ipoh Remembered cooments:
1. While in Perak Loke Yew contributed to a number of good causes, including Horley's school in Ipoh.

2. When you mention Loke Yew's children, it might be good to name Loke Wan Tho, who himself made a mark on Ipoh.