We've tried to ensure the information displayed here is as accurate as possible. Should there be any inaccuracies, we would be grateful if you could let us know at info@ipohworld.org . All images and content are copyright.
(Please click on the thumbnail for a bigger image.)
Perak Trading
Thumbnail :
---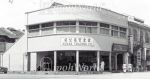 Subject :Perak Trading
Source :
Ruth Iversen Rollitt, UK
Remark :
We thank our donor Ruth (daugther of B M Iversen) for this picture.
According to Ipoh Remembered, this building was on Belfield Street; near the intersection with Birch Street, on the edge of today's 'Little India'. We also thank Ipoh Remembered for the following information: "In the '50s and '60s the company operated a number of tin mines and dealt with the mining trade. In addition to tin-mining operations, Perak Trading was involved in the rubber industry as well as other businesses — hence the purposely-vague name."