We've tried to ensure the information displayed here is as accurate as possible. Should there be any inaccuracies, we would be grateful if you could let us know at info@ipohworld.org . All images and content are copyright.
(Please click on the thumbnail for a bigger image.)
An Old Potato Ricer
Thumbnail :
---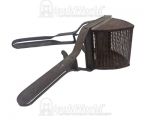 Subject :An Old Potato Ricer
Location :
Source :
Ian Anderson, Ipoh
Remark :
An old rusty potato ricer which would have been a commonly used utensil in the kitchen to mash / rice cooked potatoes, could have also been used for tapioca. Modern day ricers are more circular in shape.