We've tried to ensure the information displayed here is as accurate as possible. Should there be any inaccuracies, we would be grateful if you could let us know at info@ipohworld.org . All images and content are copyright.
(Please click on the thumbnail for a bigger image.)
Templer - Tiger Of Malaya
Thumbnail :
---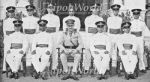 Subject :Templer - Tiger Of Malaya
Published By :
Published by: Harrap Limited; Written by: John Cloake
Location :
Source :
Ian Anderson, Ipoh
Remark :
In the words of the author (John Cloake):
This book records the life and portrays the character of a man thought by many to be one of the truly great figures of his generation. Filed Marshal Sir Gerald Templer was a dynamic leader and a dedicated professional soldier with a reputation for ruthlessness. Yet he was a 'soldier's general' who inspired great loyalty and devotion. He was a champion sportsman, a lover of Russian ballet, of pictures, of good wine. He shunned publicity; and barked at people. But his brusque manner concealed a very warm heart, a great sense of humour, and a charm which twinkled in his eye.
The picture on the left shows the front cover of the book.
The picture on the right shows Sir Templer and the twelve cadets chosen to become the first officers of the Federation Regiment. From left to right:
Front row (seated) - Khong Kim Khong, Abdullah Samsuddin, Gerald Templer, Victor Stevenson, Asna Mohamed Sutan.
Back row (standing) - Gui Poh Chui, Thong Chee Sin, Leong Siew Meng, Lakhbr Singh Gill, Ng Boon Hua, Lai Chung Wah, Amiruddin Mustapha Al-Bakri.