We've tried to ensure the information displayed here is as accurate as possible. Should there be any inaccuracies, we would be grateful if you could let us know at info@ipohworld.org . All images and content are copyright.
(Please click on the thumbnail for a bigger image.)
Traditional Chinese Chess Set
Thumbnail :
---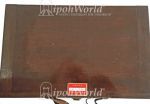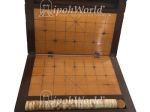 Subject :Traditional Chinese Chess Set
Source :
Mdm Ko Wye Fong, Kuala Lumpur
Remark :
The pictures show a traditional Chinese chess set. This chess set was made from a company in Shanghai, China .It is a wooden hinge box, which indicates that it can be open up like a briefcase. Inside the box is where the chess pieces are kept. Playing Chinese chess set may seems as easy as a piece of cake, but there are some basic rules that every player requires to acknowledge.
According to Wikipedia:
Chinese chess is a strategy board game for two players. It is one of the most popular board games in China, and is in the same family as Western (or international) chess, chaturanga, shogi, Indian chess and janggi. Besides China and areas with significant ethnic Chinese communities, xiangqi (cờ tướng) is also a popular pastime in Vietnam.
The game represents a battle between two armies, with the object of capturing the enemy's general (king). Distinctive features of xiangqi include the cannon (pao), which must jump to capture; a rule prohibiting the generals from facing each other directly; areas on the board called the river and palace, which restrict the movement of some pieces (but enhance that of others); and placement of the pieces on the intersections of the board lines, rather than within the squares.