We've tried to ensure the information displayed here is as accurate as possible. Should there be any inaccuracies, we would be grateful if you could let us know at info@ipohworld.org . All images and content are copyright.
(Please click on the thumbnail for a bigger image.)
Peg Figure Sets
Thumbnail :
---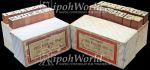 Subject :Peg Figure Sets
Source :
Madam Ko Wye Fong, Kuala Lumpur
Remark :
The photograph above showed two set of Peg Figure Set, which came in two different sizes. As you can see in picture , on the cover of the two boxes showed the size of the stamp, the one with size 00 is larger, whereas the stamp with the size 0 is smaller. It showed the company"STANDARD RUBBER TYPE CO, LTD" as well. On the other hand , inside the two boxes each contained a set of number from one to zero and some other symbols too.In our database , there is another set of peg figure set.