We've tried to ensure the information displayed here is as accurate as possible. Should there be any inaccuracies, we would be grateful if you could let us know at info@ipohworld.org . All images and content are copyright.
(Please click on the thumbnail for a bigger image.)
Souvenir From Mobilgas
Thumbnail :
---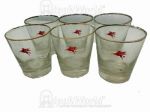 Subject :Souvenir from Mobilgas
Source :
Madam Ko Wye Fong, Kuala Lumpur
Remark :
The picture above showed a set of drinking glass from an oil company known as MOBILGAS/SOCONY VACUUM OIL COMPANY. Each of the glass has a red flying horse logo printed on the surface. We have five such glasses in our collection.