We've tried to ensure the information displayed here is as accurate as possible. Should there be any inaccuracies, we would be grateful if you could let us know at info@ipohworld.org . All images and content are copyright.
(Please click on the thumbnail for a bigger image.)
A Coffee Sock Filter With An Enamel Mug
Thumbnail :
---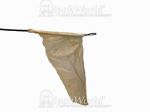 Subject :A Coffee Sock Filter with an Enamel Mug
Source :
Madam Ko Wye Fong, Kuala Lumpur
Remark :
The picture above displayed a coffee sock filter with an enamel mug.The filter was made of cloth and it has a metal handle with it.The hole of the filter is where the coffee powder are placed in and rinse it with hot water. Whereas for the enamel mug was made of metal which was coated with light green paint. Usually you can see people uses it in any restaurants to make either coffee or teh tarik.