We've tried to ensure the information displayed here is as accurate as possible. Should there be any inaccuracies, we would be grateful if you could let us know at info@ipohworld.org . All images and content are copyright.
(Please click on the thumbnail for a bigger image.)
A Chinese Girl's Silk, Hooded Cloak
Thumbnail :
---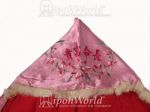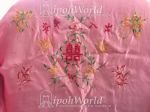 Subject :A Chinese Girl's Silk, Hooded Cloak
Source :
Mdm Ko Wye Fong, Kuala Lumpur
Remark :
This pink silk cloak with a red lining has a fur trimmed hood with embroidered Chinese characters that read "Long Life (Longevity) and Prosperity" with a garland of flowers below them.
The back of the cloak id fully embroidered. In the centre is the symbol for "twin Happiness", normally only used for wedding celebrations and good wishes. This is surrounded by flowers and butterflies with four characters which literall say something like go and come back again which could mean have a safe journey (in lifeJ).