We've tried to ensure the information displayed here is as accurate as possible. Should there be any inaccuracies, we would be grateful if you could let us know at info@ipohworld.org . All images and content are copyright.
(Please click on the thumbnail for a bigger image.)
Tronoh Mines Ltd, Leased To Towkay Foo Choo Choon - A Chinese Treadmill Pump
Thumbnail :
---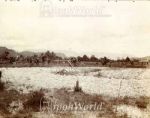 Subject :Tronoh Mines Ltd, Leased to Towkay Foo Choo Choon - a Chinese Treadmill Pump
Source :
Ian Anderson, Ipoh / Kinta Properties Group
Remark :
This photograph shows an example of the popular chinese treadmill pump. It is man-powered to pump water from a nearby river or stream to a higher ground for tin-washing.

Tronoh Mines was the most famous open-cast mine of its time. The initial owners of the land rights were the Chinese: Jin Siong Yoong (Batu Gajah), Wong Kok (Papan), Chi Kam Poh (Papan) and Kok Kee (Tronoh). However, in 1895, they gave a sublease to Towkay Foo Choo Choon from Lahat who opened the mines with 1,500 coolies. Chang Yin Fatt worked as the overseer for Foo Choo Choon in Tronoh Mines.

In 1898, Towkay Foo Choo Choon hired John Addis to introduce more economical mining methods. Consequently, underground shaft mining and open-cast methods were employed at the same time. The Tronoh Mines became the most westernised Chinese mining operation; with a 420-foot inclined shaft initially which was followed by a perpendicular shaft.

Tronoh Mines Limited was formed in 1901 and the company reached an all-time record of nearly 3,860 tons of tin ore in 1911, becoming the largest producer of tinstone in the world, without any machinery, except that for pumping water.

John Addis retired from Tonoh in 1905 as recorded by the Perak Pioneer:


A VETERAN MINER

Mr. John Addis, the Father of Tronoh, is in Singapore and is leaving for Australia this week. He has severed his connection with Tronoh and also with Mr. Foo Choo Choon but on most affable terms. He is not given to sporting geegaws but now wears a magnificent diamond and sapphire ring which Mr. Foo Choo Choon took off his own finger and put on the finger of the veteran miner as he was bidding him farewell. It is hurting nobody to state that the Towkay has settled a most handsome pension upon the man who helped him so well to build up his enormous fortune. Mr. Addis has a house in Melbourne and was a veteran of Ballarat in the 1850's.
Foo Choo Choon then (in 1907), employed a new Australian manager with Ballarat gold field experience, William Alfred Bryant, who unfortunately passed away in Batu Gajah hospital in 1913 as a result of an accident at the mine.

The picture above was taken by an expatriate who was posted to Malaya and being a keen photographer took, developed and printed his own work. We are fortunate to have some of it.

To read more about Foo Choo Choon, click here.

To read more about William Bryant, click here.