We've tried to ensure the information displayed here is as accurate as possible. Should there be any inaccuracies, we would be grateful if you could let us know at info@ipohworld.org . All images and content are copyright.
(Please click on the thumbnail for a bigger image.)
An Early View Of Anderson Road, Ipoh
Thumbnail :
---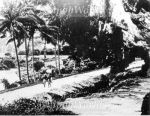 Subject :An Early View of Anderson Road, Ipoh
Published By :
Published by the Royal Ipoh Club. Printed by the Kuang Ming Press & Co Sdn Bhd
Location :
Anderson Road, Gunong Cheroh, Ipoh
Source :
Royal Ipoh Club Magazine January 1986, Lent by and returned to the Club library
Remark :
This is a photograph of an entirely rural and narrow track which was later named Anderson Road some time after April 1904 when Sir John Anderson became the new High Commissioner of the Federated Malay States (FMS). The photograph was taken in the area of the Daoist (Taoist) cave temple, Nam To Ngam at Gunong Cheroh.
Ipoh Remembered (one of our Blog Readers) had this to say:
It's true that one part of Anderson Road – the part near Gunong Cheroh – was an old rural track.
The lower part of Anderson Road – the straight part – was built and named when New Town was built, roughly 1908. It then stretched upwards until it met and subsumed the old track.
In 1908, when the road was named, John Anderson was still High Commissioner. He had visited Ipoh in 1904 when he was first appointed and he did so again in 1914.

To read more about Nam To Ngam, click here.

For the Ipoh Club's history, click here