We've tried to ensure the information displayed here is as accurate as possible. Should there be any inaccuracies, we would be grateful if you could let us know at info@ipohworld.org . All images and content are copyright.
(Please click on the thumbnail for a bigger image.)
A Royal Dragoons QSL Card From Ipoh
Thumbnail :
---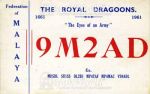 Default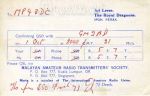 Subject :A Royal Dragoons QSL Card from Ipoh
Published By :
Sergeant Leese, The Royal Dragoons
Source :
Ian Anderson, Ipoh / Kinta Properties Group
Remark : A QSL card is a written confirmation of either a two-way radio communication between two amateur radio stations or a one-way reception of a signal from an AM radio, FM radio, or television station. QSL cards can also confirm the reception of a two-way radio communication by a third party.

A typical QSL card is the same size and made from the same material as a typical postcard, and many are sent through the mail as a standard postcard. (Taken from Wikipedia).

QSL cards derived their name from the Q code "QSL", which means "I acknowledge receipt." Most are collected by amateur radio operators, shortwave listeners, TV-FM Dxers, and other radio hobbyists.

This card was produced by Sergeant Leese to mark the 300th anniversary of his regiment which was celebrated in Ipoh. A member of the Malayan Amateur Radio Transmitters Society the card records his contact with call-sign MP4BDC at 2000 on 1st October 1961.