We've tried to ensure the information displayed here is as accurate as possible. Should there be any inaccuracies, we would be grateful if you could let us know at info@ipohworld.org . All images and content are copyright.
(Please click on the thumbnail for a bigger image.)
Perak's National Table Tennis Cup Winners Parade Through The Streets Of Ipoh With Towkay Chong Kok Lim
Thumbnail :
---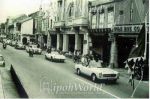 Subject :Perak's National Table Tennis Cup Winners Parade Through the Streets of Ipoh with Towkay Chong Kok Lim
Location :
Hugh Low Street, Ipoh
Source :
Haji Musa & Family, Ipoh
Remark :
The photograph shows the parade that was held to celebrate Perak State winning the National Table Tennis Championship in 1967. In the picture can be seen the leading cars in the parade carrying the trophies won by the team. They were in Hugh Low Street when the picture was taken, passing the premises of the Oversea Chinese Banking Corporation. The procession ended at the State Council Offices where a Civic celebration was held. The President of the Perak Association, Towkay Chong Kok Lim (later Tan Sri) is in the leading car.

Chong Kok Lim was born in Hopoh area of Guangdong, China in 1913. He was the eldest son of a Hakka farmer who spoke the Hakka dialect but with a very different Hopoh intonation. He migrated to Malaya as a young man in the late 1920s where initially he worked on rubber plantations.

A careful spender he saved his money and set up a provisions store in Sungei Siput, Perak. Prior to the second World War he moved to Singapore and became involved in shipping and trading (mainly with Jawa), making considerable profits which in 1946 he invested in tin mining in Perak having move back to Ipoh.

In the early 1950s Chong Kok Lim hit a motherlode of tin which he called "A River of Money" for, as he once told the Star newspaper "In tin mining if you have the good fortune of hitting tin, your income will be like a river of money flowing towards you." With this fortune he also entered the horse racing scene and between 1960 to 1990 was one of the leading race horse owners in the Malay Peninsula.

In the 1970s he invested heavily in property development and hotels including the Sungei Wang Plaza (River of Money Plaza) and the Regent Hotel, both in Kuala Lumpur.

In 1982 he acquired Premium Holdings Berhad which he renamed Landmarks Holdings. But after some financial problems the company suffered massive losses and in January 1992 Chong Kok Lim was declared bankrupt.

He passed away as Tan Sri Chong Kok Lim in 1995 at the age of 83 after suffering a stroke.
One of our blog readers - Ipoh Remembered - shared the following about Chong Kok Lim:
"In the '60s he lived on Tambun Road, close to the fountain. The house is still there, I think, but I don't know who owns it.
His offices were on Cowan Street for years, then moved to Jalan Che Tak when larger premises were needed.
Not only was "River of Money" a favourite theme in his life, and not only did he call one of his KL properties the "Sungei Wang Plaza," he also once owned a horse named "Sungei Wang."
His enemies kept sending him packages containing venomous spiders and snakes.
He was once convicted of assaulting a police officer.

If I had to sum up: In the beginning his ambition and drive were impressive; and yet, in the end, his financial troubles were insurmountable.

To see more about Ipoh's Street Names, click here.

To read more about Sir Hugh Low, click here.

To read more about the Oversea Chinese Bank Building and the Bank of Malaya, click here.