We've tried to ensure the information displayed here is as accurate as possible. Should there be any inaccuracies, we would be grateful if you could let us know at info@ipohworld.org . All images and content are copyright.
(Please click on the thumbnail for a bigger image.)
The Hopoh Association Members Outside Their Headquarters Building
Thumbnail :
---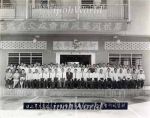 Subject :The Hopoh Association Members Outside their Headquarters Building
Location :
183, Jalan Che Tak, Ipoh
Source :
Ian Anderson, Ipoh / Kinta Properties Group
Remark :
This picture shows the members of the Perak Hopoh Association celebrating the 9th anniversary of the founding of their association in September 1959. Behind them is their own Hopoh building. The founders of this, the first Hopoh Association in Malaya, were Towkay Chong Kok Lim and Towkay Zheng Zheng Xiong (Hanyu Pinyin) and Chong Kok Lim became the first Chairman, a post he held for 16 terms until 1990.

At first their headquarters was a rented building owned by Foo Yet Kai, but on December 16th 1962 their own new building was opened in Jalan Che Tak, Ipoh. The picture dated March 2nd 1967 probably records the formal opening of the new headquarters and this copy was presented as a gift to their Chairman Dato Chong Kok Lim by the Hopoh Association members. It was found in the local market.

The building is currently (2008) leased to the Sakura Hotel.

The Hopoh Association is formed by members from the Hopoh area of Guangdong, China. They speak the Hakka dialect but with the Hopoh intonation which is quite different. Chong Kok Lim was born in the area in 1913.

To read more about Towkay Chong Kok Lim, click here.