We've tried to ensure the information displayed here is as accurate as possible. Should there be any inaccuracies, we would be grateful if you could let us know at info@ipohworld.org . All images and content are copyright.
(Please click on the thumbnail for a bigger image.)
The Last Ipoh Rickshaw
Thumbnail :
---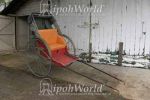 Subject :The Last Ipoh Rickshaw
Location :
Anderson Road, Ipoh
Source :
Ian Anderson, Ipoh / Kinta Properties Group
Remark :
As far as we are aware, this is the last rickshaw made in Ipoh for service in the streets. However like their successor the Trishaw, these vehicles are difficult to date accurately as repairs would be undertaken and parts would be replaced when necessary, turning them into a mixture of styles and parts as the years went by. Historically we know that this example came from a family who rented out rickshaws in Anderson Road, Ipoh, both before and after the Japanese Occupation. We also have photographs of early rickshaws with identical wheels and other features. Consequently, although the hood is of a modern material we believe a fair assessment of its age would date it as from the 1930's.

To read a brief history of the Rickshaw, click here.