We've tried to ensure the information displayed here is as accurate as possible. Should there be any inaccuracies, we would be grateful if you could let us know at info@ipohworld.org . All images and content are copyright.
(Please click on the thumbnail for a bigger image.)
The Japanese Garden Sponsored By The Perak Turf Club, Perak/Japanese Friendship
Thumbnail :
---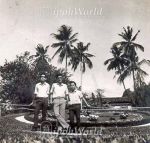 Subject :The Japanese Garden Sponsored by the Perak Turf Club, Perak/Japanese Friendship
Location :
Tambun Road, Ipoh
Source :
Harold Sevanesam, Ipoh
Remark :
This is a picture of a group of friends in the Japanese Garden off Tambun Road. Behind the group is the floral clock.
This garden was sponsored by the Perak Turf Club and it is one of two Japanese Gardens in Ipoh, the second one being in D R Seenivasagam Park (D R Park). The latter was the result of Japanese / Perak state cooperation.
The history of the relationship between the city of Ipoh and the Japanese dates back a long while. The Japanese have invested billions of Ringgit in the state through the 1980s until today, mostly in manufacturing industries. As a result of that, there is a small community of Japanese expatriates who have since called Ipoh home. Local organisations such as the Perak Malaysian-Japanese Friendship Society and the Japan Club of Ipoh have done their part in boosting cultural exchanges between these two different worlds.
Such is the special relationship between Japan and the state of Perak that high level delegations have visited Perak a couple of times in the past decade, the most recent being in June 2006 when Emperor Akihito and Empress Michiko paid a royal visit.
Ipoh and the Japanese city of Fukuoka were also written as twin cities in a special ceremony conducted in March 1989. The D R Park garden was first conceived in 1991 in a plan to strengthen the relationship between the twin cities. It was officially opened in 1995 after several years on the drawing board, plus a number of visits to Kyoto and Fukuoka by the local officials. The Japanese counterparts also flew in a number of times to Ipoh to finalise the design. Finally, after RM750,000, this beautiful park was born. The key element of the garden is to emphasis on Japanese ideas of space and harmony. The plants were carefully selected to realise the full Japanese elements with some adjustments made to cater for tropical climate in the city. As a result, a whopping total of 77,649 flora and fauna species were introduced in the garden. Some familiar features of the garden include fish ponds, Japanese-style bridges, bamboo fences, ferns, lotus and water lily plants, as well as bonsai trees.