We've tried to ensure the information displayed here is as accurate as possible. Should there be any inaccuracies, we would be grateful if you could let us know at info@ipohworld.org . All images and content are copyright.
(Please click on the thumbnail for a bigger image.)
Mohamad Hidir Bin Osman, Yul Brynner Runner-up In The Lido Theatre Competition, Ipoh
Thumbnail :
---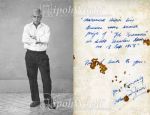 Subject :Mohamad Hidir bin Osman, Yul Brynner Runner-up in the Lido Theatre Competition, Ipoh
Source :
Ong Kor Leong, Tapah
Remark :
On 18 September 1958 the Lido Theatre, a newly opened cinema in Ipoh, built in 1957, held a competition to find the best Yul Brynner double in town. We have no idea who won first prize, but the photograph shows the runner up (second prize winner) Mohamad Hidir bin Osman. Autographed by himself and with an explanation on the rear of the picture (shown), this is a fine example of how the Lido drew in the crowds where competition for the cinema audiences was stiff and promotions, competitions and the like were a common occurrence.

Yul Brynner made an immediate impact upon entering films by playing both the baldheaded King Mongkut in the King and I and Rameses in the Ten Commandments, in 1956. He was therefore known universally for his shaved head which he kept as a personal trademark.

After a successful service to the community for almost 45 years, the Lido finally closed its doors on May 31, 2001.

To read more about the Lido Theatre click here.