We've tried to ensure the information displayed here is as accurate as possible. Should there be any inaccuracies, we would be grateful if you could let us know at info@ipohworld.org . All images and content are copyright.
(Please click on the thumbnail for a bigger image.)
The Rex Hotel, Ipoh - Regulations Of The Perak Lodging House Association
Thumbnail :
---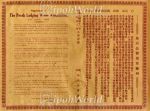 Subject :The Rex Hotel, Ipoh - Regulations of the Perak Lodging House Association
Location :
Hugh Low Street, Ipoh
Source :
Y T Lee FMS Bar and Restaurant, Ipoh
Remark :
This notice was framed and hung in the lobby of the Rex Hotel, (formerly known as the Foo See Hotel) Ipoh, off Hugh Low Street from 1952 until it closed in 2008. The notice carries the regulations issued by the Perak Lodging House Association on the 1.6.1952.

The following exracts are some of the regulations listed: Travelers or lodgers should report particulars according to the identity card as required by the hotel before occupying a room; Travelers or lodgers who possess luggage should pay their dues every three days, while those who do not have luggage must deposit an advance; To observe the Sanitary Board, no sick people will be accepted. Should anyone fall sick while staying in this lodging house, he or she must leave immediately or he or she will be sent to the Government Hospital; nothing can be deducted from the rent if the visitors or lodgers have private accounts with our staffs; an early report will be much appreciated when vacating the hotel for elsewhere; Any complaint regarding our workers, please report to us at once.

This notice is also written in Chinese characters and has a Perak Hotel Association, Ipoh chop.

To read more about the Foo See Hotel, click here.