We've tried to ensure the information displayed here is as accurate as possible. Should there be any inaccuracies, we would be grateful if you could let us know at info@ipohworld.org . All images and content are copyright.
(Please click on the thumbnail for a bigger image.)
Three Handmade And Painted Rooster Or Cockerel Rice Bowls
Thumbnail :
---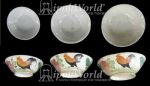 Subject :Three Handmade and Painted Rooster or Cockerel Rice Bowls
Source :
Ian Anderson, Ipoh
Remark :
These rooster or cockerel pattern rice/noodle bowls are hand-made and hand-painted items that appear to have been in common use in Malaya since anyone can remember although they are fairly scarce items today. From left to Right they measure about 13.5, 15.5 and 17.5cm in diameter. The centre one has the Chinese character He (Pinyin) scratched inside it. Presumably it is the name of the coolie who used it.

These hard-wearing bowls of various sizes are the most common items in this pattern, but small condiment dishes plates and larger bowls do also turn up from time to time. All of these conform to the same design although being hand made and painted they are all different. So far we have not come up with any confirmed information about the history of these items, but they have certainly been in use on the hawkers' stalls in Ipoh since at least 1930 and some remain in use today. The Chinese believe that the rooster indicates vitality and energy, due to how its crowing provides an early-morning wake-up call to start the days work. Furthermore, the rice bowl means (colloquially) earning a living in the Cantonese dialect. Consequently what could be more significant to a hard working, Cantonese speaking, Coolie than a rice bowl with a rooster design on it! Interestingly enough, although these items have not been produced for many years in their original form, a factory has been started in Thailand to mass produce modern rooster crockery (to the same design) for export, maintaining the old Chinese tradition.

Old and new are easy to tell apart as the original items sport hand-painted roosters, every one different, the other give-away being that since the old bowls, dishes and plates were hand-moulded, the shapes differ from each other and they cannot be stacked neatly.

To read more about Small Handmade and Painted Rooster or Cockerel Condiment Dishes, click here.

To read more about Handmade Hand-painted Rooster or Cockerel Plates, click here.