We've tried to ensure the information displayed here is as accurate as possible. Should there be any inaccuracies, we would be grateful if you could let us know at info@ipohworld.org . All images and content are copyright.
(Please click on the thumbnail for a bigger image.)
Endowment Fund Receipt From University Of Malaya
Thumbnail :
---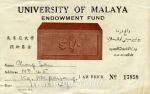 Subject :Endowment Fund Receipt from University of Malaya
Location :
45 Kampong Kepayang, Ipoh
Source :
Ian Anderson, Ipoh
Remark : This is a receipt issued by University of Malaya Endowment Fund on 11th October 1949, for the amount $1. The fund was in support of the construction of one of the first buildings in the University of Malaya. Donations were made by "buying" a building brick for the cost of $1. The donation was made by Chong Sam of 45 Kampung Kapayang, Ipoh, for the brick number 17858.

Universiti Malaya, or UM, Malaysia's oldest university, was established in April 1949 in Singapore with the merger of the King Edward VII College of Medicine (founded in 1905) and Raffles College (founded in 1928). It is situated on a 750 acre (309 hectare) campus in the southwest of Kuala Lumpur, the capital of Malaysia.

For more information about the university, visit www.um.edu.my.