We've tried to ensure the information displayed here is as accurate as possible. Should there be any inaccuracies, we would be grateful if you could let us know at info@ipohworld.org . All images and content are copyright.
(Please click on the thumbnail for a bigger image.)
Pass For Entry Into Southern Thailand For Woon Keaw
Thumbnail :
---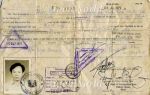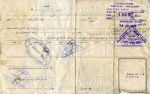 Subject :Pass For Entry Into Southern Thailand for Woon Keaw
Location :
Padang Besar, Perlis
Source :
Ian Anderson, Ipoh
Remark : This is a pass issued for permission of entry into southern Thailand, valid until 29th January 1978. The holder of the pass has used the pass several times, as can be seen from the chops on both sides of the pass, spanning the months July, August and September 1977. The pass bears the signature of the holder as well as the signature of the Officer issuing Pass (Official Post: Head of Immigration Post, Padang Besar, Perlis).

The Pass is printed (and written): "This pass is issued to Woon Keaw of (No.68, Jln Shatin Park, Shatin Park, Ipoh, Perak) in the district of (Kinta) who is a natural-born (citizen of Malaysia) subject and has resided for (31) years in The Mukim of (as above). The Pass authorises the said (holder only) to travel into Thailand as far as a point not (8) kilometers from the frontier of Singora, Haad Yai to the west coast for a period of (6 (six) months only.) from the date hereof."

The reverse of the document is printed in Jawi.