We've tried to ensure the information displayed here is as accurate as possible. Should there be any inaccuracies, we would be grateful if you could let us know at info@ipohworld.org . All images and content are copyright.
(Please click on the thumbnail for a bigger image.)
An Article From Ipoh Echo - Opium Saloons
Thumbnail :
---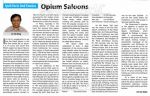 Subject :An Article from Ipoh Echo - Opium Saloons
Published By :
Published by Ipoh Echo Sdn Bhd, Author Ho Tak Ming
Source :
Ipoh Echo Issue 028
Remark :
Opium saloons were rampant in Kinta at the start of the 20th century. After the opium wars in China in the 19th century, British rulers encouraged the emigration of Chinese to this region by making it an opium smoking haven – the Straits Settlements pursued a free port policy, low taxes allowed opium to become a popular income source. Initially the right to import and sell opium was "farmed" out to "Opium Farmers" for a monthly fee but it was such a lucrative business that the government revoked most of these rights to keep the profits for itself. Kinta was not spared from the scourge of opium. Opium shops, where the smoking of opium was allowed, mushroomed in Ipoh. These appropriately-termed opium "saloons", bought on average $10 000 worth of chandu, or cooked opium, monthly; luring smokers in with their spacious, well-lit spaces. Stemming from the reform movement in China, a resolution was passed in 1906 stating that the opium trade was morally indefensible and should be curbed. The Perak Anti-Opium Society was formed, its work (treating addicts with an alternative concoction) greatly decreasing the consumption of opium, while the government implemented strict regulations on the selling of opium, abolished the "farming" system entirely and doubled the duty on chandu.

To see a silver opium pipe and ceramic damper with a description of how they operate, click here.

To see a photograph of an opium smoker and his servant, click here.

To learn more about the Perak Anti Opium Society, click here.