We've tried to ensure the information displayed here is as accurate as possible. Should there be any inaccuracies, we would be grateful if you could let us know at info@ipohworld.org . All images and content are copyright.
(Please click on the thumbnail for a bigger image.)
Press Cutting - The Lee Meng Saga
Thumbnail :
---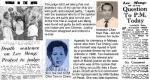 Subject :Press Cutting - The Lee Meng Saga
Published By :
New Straits Time Press
Source :
Dato Seri Yuen Yuet Leng
Remark :
A page taken from Dato Seri Yuen Yuet Leng's album featuring Malay Mail reports dated 10th August 1953, on the conviction and reprieve of a woman terrorist called Lee Meng who was the District Committee Secretary (DCS)and head of the Ipoh town Committee for the local Communists. She is pictured top left entering the Ipoh courthouse in tears, surrounded by police.

Lee Meng, pictured centre, was convicted and sentenced to death by the Ipoh Assize Court for possession of a grenade. After numerous appeals for clemency, including one from Tan Chen Lock, she was given a reprieve by the then HRH Sultan of Perak and her sentence commuted to life imprisonment. Lee Meng was later banished to China where she eventually married Central Committee Member (CCM) Chin Tien.

On the same page, top right is a picture of one of the Assessors of her case, Lee Kam Pak, who did not believe that she was guilty.

To read more about Lee Meng and her conviction, click here.

To read more about Dato' Seri Yuen Yuet Leng, click here.