We've tried to ensure the information displayed here is as accurate as possible. Should there be any inaccuracies, we would be grateful if you could let us know at info@ipohworld.org . All images and content are copyright.
(Please click on the thumbnail for a bigger image.)
Sir William Jervois Visits Perak (Pangkor Treaty)
Thumbnail :
---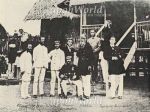 Subject :Sir William Jervois Visits Perak (Pangkor Treaty)
Published By :
Published by Schiffmann, Heer & Co. Edited By Arnold Wright & H.A. Cartwright
Location :
Pangkor Island, Perak
Source :
Twentieth Century Impressions of British Malaya, Book / ipohWorld Library
Remark :
Sir William Jervois, GCMG, CB was a military engineer and Governor General of the Crown Colonies of the Straits Settlements (Penang, Malacca and Singapore) at Singapore from May 8, 1875 to April 3, 1877. It is believed that this photograph was taken on Pangkor Island in September 1875 when he visited Perak. At that time the Perak was in the hands of J W W Birch, the First British Resident.

In the photograph surrounding the seated Sir William, are all the British officials who in one way or another were concerned with enforcing the Treaty of Pangkor, signed between the British and the Sultan of Perak.
Dr A F Anderson,


Captain W Innes,


Major J F A McNair,


Lt H E McCallum,


W Knaggs (in a suit),


J W W Birch (standing on the Governor's left),


Captain Speedy (on the steps and bearded),


Frank Swettenham (nonchantly leaning against the handrail).

The Pangkor Treaty (aka the Pangkor Engagement) was signed on 20 January 1874, on board HMS Pluto, anchored off the island of Pangkor. It recognised the Sultan of Perak as being Abdullah, confirmed Ngah Ibrahim as the 'Mentri' of Larut in his district, provided for a British officer (The Resident) to reside at the Sultan's headquarters (at The State's expense), bound the Sultan to follow the officer's advice and stipulated that an assistant Resident would be posted to Larut with authority over the Mentri. J W W Birch was the first Resident and Captain Speedy was appointed as Deputy Resident at Larut. Major Mcnair was also appointed Chief Commissioner for the Pacification of Larut.
Ipoh Remembered comments on this article thus:
Nor is the location the only mistake your source makes with regard to this photograph. And others, including historians, have made their own mistakes as well. Some have "identified" the seated figure as Governor Andrew Clarke. That's obviously incorrect. Some have said that the photograph was taken in 1874 when the Pangkor Treaty was signed. That's also incorrect. Others have said Birch is not in the photograph; and that's incorrect, too.

As for who is in the picture:

The seated figure is Governor Jervois, no doubt.

As for the rest, I'll address your list in order:

Anderson: Yes. He was a surgeon stationed in Singapore who had come up on the trip with Jervois.

Innes: Yes. He was an engineer stationed in Penang. In the British attack on Pasir Salak five days after Birch was assassinated, Innes was killed in battle — shot in the heart — and he was buried next to Birch in Bandar Bharu.

McNair: No. Born in 1828, McNair was 47 years old in 1875. The young man identified as McNair is in fact Lieutenant McCallum, Private Secretary to Governor Jervois.

McCallum: No (see above). So who is it? The best analysis I've seen, performed in the late 1980s, examined other photographs in which ostensibly the same person can be found and concluded that he is Henry Plow — but I've subsequently established that Plow died at sea in 1874 on his way to a posting in Africa, so it cannot be him. Who it is I am not sure … yet.

Knaggs: No, it's Francis Stirling, Commander of the Thistle, on which vessel Jervois and his party had come up from Singapore. Knaggs was not traveling with Jervois but did meet the Governor earlier in Larut. (If it's any consolation, one of his sons, Albert, spent a great deal of time in Ipoh between 1895 and 1911. When Treacher (yes, that Treacher) and Leech (yes, that Leech) retired from the board of Kramat Pulai Tin in 1914, Knaggs, by then at home in the UK, took their place. Within two years he was Chairman of the company. Some of his descendants are still in Malaysia, perhaps even in Ipoh, although by now they are all mostly Chinese.)

Birch: Yes. What's more, if you look closely you see the head of a man who is standing behind Birch: that man is Major McNair.

Speedy: Yes. (Incidentally, notice how very tall he is.)

Swettenham: Yes, without a doubt.

A final question: Who took the photograph?

It was probably not an official photographer: there is no record of one being on the trip; and strangely enough, no print of the photograph was sent to the Colonial Office in London.

My own conclusion, shared by some, is that the photograph was taken using one of Birch's own cameras. The Resident was known to be an amateur photographer. Images he had captured when he worked for the Public Works Department in Ceylon had even been sold as postcards. In Perak, he had trained his helpers to work his cameras so that they could take photographs of him — and that is what I suspect happened in this case.

To read more about J W W Birch click here.

To read more about Captain Speedy, click here.

To read more about Sir Frank Athelstane Swettenham, click here.

To read more about Sultan Abdullah Muhammad Shah II, click here.

To read more about Major McNair, later Sir John Frederick Adolphus McNair CMG, click here.