We've tried to ensure the information displayed here is as accurate as possible. Should there be any inaccuracies, we would be grateful if you could let us know at info@ipohworld.org . All images and content are copyright.
(Please click on the thumbnail for a bigger image.)
The Falcons
Thumbnail :
---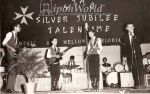 Subject :The Falcons
Remark :
In the late 1950s, when musicians and singers alike were trying to make their mark in the entertainment scene and when pop music and rock and roll ruled the world, it was the dawn of a new era for four young teenagers in Ipoh who were eager to come together for a common passion – music. After a chance meeting between Michael Ho and Joe Chin (both St Michael's Institution students and amateur guitarists) in early 1960 and several practices together, they decided to form a band. Joining them were Christopher Choong (aka 13), a drummer and Thomas Ham, another guitarist. These four young teenagers had all the drive in the world to be a band but lacked the financial support.

They then met Robert Ng, a schoolmate and a wealthy tin miner's son. Robert agreed to become the band's manager and provide the necessary financial backing. The band diligently practiced at Robert's bungalow, but without a name. They prepared themselves well and along came an opportunity for a public appearance. It was in the then Federal Hotel, Cameron Highlands owned by William Chong. The group then realised they had to have a name. After thinking it through for a while, they decided to name themselves 'The Falcons' after one of the many stuffed birds in the collection of Robert's father, found hanging in the living room. That Christmas Eve 1961, the band belted out songs entertaining the guests throughout the night.

Sadly, in early 1962 the Falcons disbanded as their manager had to concentrate on family business and the band members decided to channel their focus towards their studies. However, that was not entirely the end of the story for some of them went on to form the Teenage Fentons later the same year.

The pictures show from right to left: a posed photograph of the band showing Michael, Christopher, Joe and in front, Thomas with the stuffed Falcon; next they are seen performing on the stage during a Talentime show at St Michael's Institution; and on the left Christopher on his drums.

To read more about St Michael's Institution, click here.

To read about The Teenage Fentons, click here.