We've tried to ensure the information displayed here is as accurate as possible. Should there be any inaccuracies, we would be grateful if you could let us know at info@ipohworld.org . All images and content are copyright.
(Please click on the thumbnail for a bigger image.)
The Teenage Fentons
Thumbnail :
---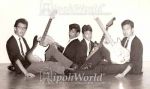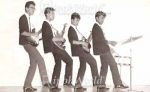 Subject :The Teenage Fentons
Remark :
When The Falcons had to end due to their manager quitting, the band members, Joe Chin, Michael Ho, Christopher Choong and Thomas Ham decided to concentrate on their education, leaving the stuffed Falcon (the band's mascot) with Christopher. But not long after that, Joe and Michael found a two other guys, (Kenny Ham, Thomas' brother and Vincent Joseph, his cousin), who shared their interest and together they formed 'The Teenage Fentons'. This time they had a friend, Peter Lean for financial support. They were all very excited with his contribution of a Fender Stratocaster (electric guitar) investment and belted out hits by The Shadows.

The Fentons were given quite a number of opportunities to play gigs and before long they were offered the chance to play at the Shaw Brothers Cinema for local popular singers like Ho Kok Onn, the 'Cliff Richard' of Ipoh, Les Lee, the 'Elvis Presley' of Ipoh, Johnny Lee and Richard Ng. They felt elated at their sudden success streak. However, pressing career opportunities for Michael meant that the band had to find a new bassist quickly or break up th band and thus ended The Teenage Fentons but before long the music continued on(see The Drifters).

Pictures show posed photographs of the Teenage Fentons' members. On the right, from left to right: Joe, Vincent, Kenny and Michael.

To read about The Falcons, click here.

To read about The Drifters – Part 1, click here.

To read about The Fabulous Falcons – Part 1, click here.