We've tried to ensure the information displayed here is as accurate as possible. Should there be any inaccuracies, we would be grateful if you could let us know at info@ipohworld.org . All images and content are copyright.
(Please click on the thumbnail for a bigger image.)
The Drifters – Part 1
Thumbnail :
---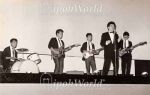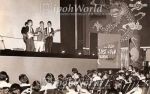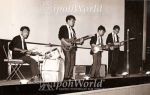 Subject :The Drifters – Part 1
Remark :
The band known as 'The Drifters' was formed in 1963 when the remaining members of The Teenage Fentons (formerly The Falcons) added on two new bassists. The Drifters now comprised Kenny Ham on rhythm guitar, Vincent Joseph on drums, Joe Chin on lead guitar and of course the new bassists Kai See and Vor Lut (who played alternatively with the band). Peter Lean, who had been The Teenage Fentons' manager stayed on. The band was taken on a working vacation of sorts to Sungkai, a town in Perak by their manager. This vacation did a great deal of good to the band as their spirits were raised high by very enthusiastic audiences who were deprived of entertainment. This uplifting helped tremendously as the band received many opportunities for gigs later. However, the decision of the band members to call it quits and focus on their studies spelled out the demise of The Drifters. Joe Chin in particular decided to put all his efforts into his Senior Cambridge year in 1964. Not long after, the other band members decided to re-form the first band, The Falcons.

The pictures show from left to right: The Drifters performing with Ho Kok Onn, 'Cliff Richard' of Ipoh - Vincent (drums) Kai See (bass), Kenny (rhythms) Ho Kok Onn (singer) and Joe (Lead); next, The Drifters performing with Les Lee, Ipoh's 'Elvis Presley' - from left - Kenny, Les Lee, Joe and Kai See (behind) and on the right, The Drifters - Vincent (drums), Kai See (bass), Kenny (rhythms), Joe (lead).

To read about The Teenage Fentons, click here.

To read about The Falcons, click here.

To see more photographs of The Drifters in Part 2, click here.