We've tried to ensure the information displayed here is as accurate as possible. Should there be any inaccuracies, we would be grateful if you could let us know at info@ipohworld.org . All images and content are copyright.
(Please click on the thumbnail for a bigger image.)
St. Michael's Institution (SMI) - The Thomas Cup Champions Visit The School
Thumbnail :
---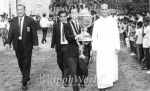 Subject :St. Michael's Institution (SMI) - The Thomas Cup Champions Visit the School
Source :
Brother Vincent Corkery, SMI, Ipoh
Remark :
The first time the Thomas Cup visited SMI was in 1949 which was also the first time that it had been won by Malaya in the newly constituted International team event for men. Malaya went on to win it again in the succeeding competitions of 1952 and 1955, but then fortunes changed and it was not until 1967 that Malaysia again reached the pinnacle of being world Badminton Champions.

It was no surprise therefore that the Thomas Cup, won for the first time by Malaysia was brought to SMI as a repeat of the 1949 celebration of the first time Malaya became World Champions.

The photograph shows the cup being paraded through the school, carried by Tan Yee Khan, one half of the World Champion Doubles team, his partner Ng Boon Bee follows closely behind. They are flanked by Brother Ultan Paul and Lim Kean Hoo.

Malaysia next won the Thomas Cup in 1992, a gap of 25 years.

Ng Boon Bee is probably the finest sportsman to come out of SMI, being one of the stars of the Malaysian Badminton team from 1960 onwards. In partnership with Tan Yee Khan (pictured) and later P Gunalan, he won doubles titles in all the big national and international tournaments, including the All England Doubles title twice and the Malaysian title six times. However from the Malaysian point of view the 1967 success in the Thomas cup was the pinnacle of his career.

In addition, between 1958 and 1961 he was a regular member of the Perak and national soccer teams; he also played rugby for Perak.

In 1969 he was declared "Sportsman of the Year".

To read more about St Michael's Institution, click here.