We've tried to ensure the information displayed here is as accurate as possible. Should there be any inaccuracies, we would be grateful if you could let us know at info@ipohworld.org . All images and content are copyright.
(Please click on the thumbnail for a bigger image.)
A Trishaw Procession In Aid Of The Xim Phou Moon Welfare Society's Caring Day
Thumbnail :
---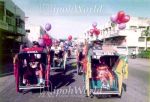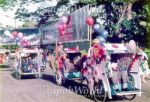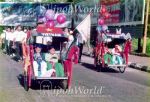 Subject :A Trishaw Procession in Aid of the Xim Phou Moon Welfare Society's Caring Day
Source :
Boon Eng Keat, Ipoh
Remark :
In the 1990s the use of Trishaws had been reduced to a mere handful, almost all belonging to Boon Eng Keat who manufactured and rented them to drivers as he had done for many years, being introduced to the trade in a shop in Hale Street, Ipoh in 1947. Indeed by the late 1980s few local people liked riding in these vehicles any more as traffic congestion and petrol fumes did not make the journey too comfortable. Consequently quite often the only time they carried passengers (rather than goods) was for some celebratory procession.

This procession, in aid of the Xim Phou Moon Welfare Society's 'Caring Day' took place in Ipoh in the first week of January 2000 (we believe Sunday the 2nd). It was formed by the last 10 trishaws that still existed in Ipoh, nine of them representing an Asian country. The countries were Malaysia, Thailand, Japan, Phillipines, China, Vietnam, Sri Lanka, Singapore and Myanmar. The tenth trishaw was from the Society and publicised the 'Caring Day'. All the trishaws were lent by Boon Eng Keat. The trishaws were followed by local youth groups.

The pictures show three scenes from the procession, probably the last one ever to take place in Ipoh.

To read more about Ipoh Trishaws, click here.
To read an e-Book featuring the life of Boon Eng Keat, click here.