We've tried to ensure the information displayed here is as accurate as possible. Should there be any inaccuracies, we would be grateful if you could let us know at info@ipohworld.org . All images and content are copyright.
(Please click on the thumbnail for a bigger image.)
656 Squadron Army Air Corps - The Ipoh Camp
Thumbnail :
---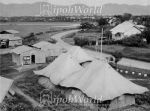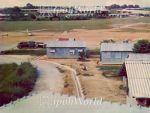 Subject :656 Squadron Army Air Corps - The Ipoh Camp
Source :
656 Squadron Association
Remark : The photographs show two views of the 656 base at Ipoh, close to the airport. They were entitled by the photographer as 'Billets' on the left and 'The Ipoh Camp' on the right.

656 Air Observation Post Squadron, Royal Air Force, was formed at the RAF Station, Westley, on 31 December 1942, from a miscellaneous collection of pilots, aircraft, soldiers, airmen and vehicles and were turned into a flying and fighting unit. After service in India and Burma they prepared for Operation Zipper which was to be a full-scale seaborne invasion of Malaya. Despite the Japanese surrender the landings between Port Dickson and Port Swettenham took place.

On 14 September, 1945, the Squadron flew in the victory parade at Kuala Lumpur. Squadron Headquarters were then located at Kuala Lumpur with flights at Kuala Trengganu, Ipoh, and at Sourabaya in Java B and C Flights worked in Malaya for the rest of the year then left for Indonesia.

In 1948 the Squadron reformed in Malaya. The outbreak of the Malayan Emergency caused the Squadron to be hastily re-formed at Sembawang with a Squadron Head¬quarters and four Air Observation Post Flights—l902 – 1907 - 1911 and 1914. Flights were sent out to small airstrips on their own near different towns for Perak, Taiping (1914) and Ipoh (1902).

In April 1950 Squadron Headquarters moved up to Noble Field, Kuala Lumpur. The Squadron was to play a significant roll in Malaya against the communist terrorists, supporting not only the guns, but also foot patrols, and making leaflet drops. To see through the jungle canopy was a difficult technique to learn, but needed to look for terrorist camps. Aircraft of all services that crashed into the jungle were often never seen again or at best found many years later.