We've tried to ensure the information displayed here is as accurate as possible. Should there be any inaccuracies, we would be grateful if you could let us know at info@ipohworld.org . All images and content are copyright.
(Please click on the thumbnail for a bigger image.)
Ralph Kesselring - Missionary, Pastor And Principal Of The Anglo-Chinese School, Ipoh
Thumbnail :
---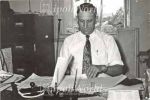 Subject :Ralph Kesselring - Missionary, Pastor and Principal of the Anglo-Chinese School, Ipoh
Location :
Lahat Road, Ipoh
Source :
Ann Kesselring Hamon, Wisconsin, USA
Remark :
The photograph shows the Reverend Ralph Kesselring, a well-known and respected educationist, in his office as Principal of the Anglo-Chinese School, Ipoh (ACS) around 1950. He held this post three times, from 1939 to 1940, 1948 to 1952 and 1953 to 1957. The Reverend Paul K Snead filled the gap for part of 1952/53.

Ralph Kesselring was born September 27, 1908 in Malta, Illinois, USA son of German immigrants. His father was a pastor in Northern Illinois and Ralph grew up in various parsonages around the Chicago area. He graduated with a degree in chemistry from North Central College in Naperville, Illinois where he heard of a need for teachers in Malaya. He was sent to Ipoh in 1930 as a chemistry and maths teacher at ACS. There he met Florence Kleinhenn who was teaching at the Anglo-Chinese Girls' School, Ipoh (later known as Ipoh Methodist Girls' School, MGS) just across the river. They married in 1935 when on furlough in the USA.

After furlough Ralph and Florence were reassigned to Ipoh where they had two daughters, Jean and Ruth. When on furlough in 1941, they were due to go back when the Japanese occupied Malaya. While waiting for reassignment Ralph obtained his Masters of Divinity from Chicago Theological School. They were then sent to San Jose, Costa Rica and reopened a school there in addition to serving the church. Their daughter, Ann was born there.

After the war when given the choice of staying in Costa Rica or returning to their beloved Malaya, the Kesselring family returned to Ipoh. It was unusual for a missionary to be reassigned to the same town but Ralph loved Ipoh, calling it the "Hub of the Universe". Both Ralph and Florence continued to teach with both of them also holding administrative jobs in the Methodist Schools in Ipoh.

In 1959 the Kesselrings were sent to Sibu, Sarawak for Ralph to become the principal for a year, returning to Malaya to serve the newly opened church in Petaling Jaya. Ralph also served as Educational Secretary for the Malayan Methodist Schools.

After furlough, Ralph and Florence Kesselring returned for a final term in Malaya first living in Sentul, Selangor and then back to Ipoh. Ralph served in various positions in the Methodist Church including Church Pastor and as the District Superintendent Methodist Churches, Perak while Florence helped start the Wesley Kindergarten in Ipoh. Ralph died of a heart attack, January 25, 1966 and is buried in his beloved Ipoh.

Ralph's wife, Florence Kleinhenn was born in Clear Creek, Ohio, USA on January 19, 1899, the daughter of farmers. She worked her way through high school and then college finally graduating from Maryville College in Tennessee. She was accepted to the mission field in 1924 and was sent to Kuala Lumpur teaching English and even Trigonometry in the Methodist Girls School there. Some of her students became her lifelong friends including Kontik Kamariah. See http://ms.wikipedia.org/wiki/Kontik_Kamariah

She married Ralph Kesselring in 1935 and spent many happy years teaching in the schools in Costa Rica, Sibu, Petaling Jaya but mainly in Ipoh. She died in Elroy, Wisconsin on March 23, 1992. Her ashes were buried in Ipoh.

To read more about the Wesley Methodist Church, Ipoh, click here.

To read more about the Anglo-Chinese Girls' School, Ipoh, click here.

To read more about Anglo-Chinese School, Ipoh, click here.