We've tried to ensure the information displayed here is as accurate as possible. Should there be any inaccuracies, we would be grateful if you could let us know at info@ipohworld.org . All images and content are copyright.
(Please click on the thumbnail for a bigger image.)
A British Government Brochure - Emergency Regulations Are Now In Force
Thumbnail :
---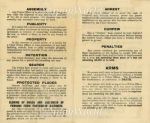 Subject :A British Government Brochure - Emergency Regulations are Now in Force
Published By :
The British Government
Source :
Lee Richards, UK
Remark :
The British Government published this 4-page folded brochure at the start of the Malayn Emergency, entitled "Emergency Regulations are now in Force; How do they Affect You?" Although not strictly a Psychological Warfare tool, like the air-dropped leaflets shown elsewhere on this archive, this brochure certainly formed an early part of the psychological fight against the communists.

The inside of the brochure has paragraphs outlining the new regulations and headed: Assembly; Publicity; Property; Detention; Search; Protected Places; Closing of Roads and Exclusion of Persons from Particular Places; Arrest; Curfew; Penalties; and Arms.

The back page offers rewards of up to $2,000 for useful information given to the police.

Much more about psychological warfare /operations can be found on www.psywar.org.

To see how 55 Company RASC (AD) and the RAF delivered Psywars Leaflets to the CTs, click here.