We've tried to ensure the information displayed here is as accurate as possible. Should there be any inaccuracies, we would be grateful if you could let us know at info@ipohworld.org . All images and content are copyright.
(Please click on the thumbnail for a bigger image.)
Harewood Estate Area Security Unit
Thumbnail :
---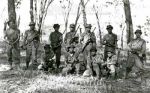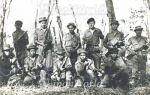 Subject :Harewood Estate Area Security Unit
Location :
Batu Gajah, Perak
Source :
Tom Turnbull, Australia
Remark :
The pictures show the Special Constables of the Area Security Unit (ASU) on the left, and in the right-hand picture with their Group Commander, Police Lieutenant Tom Turnbull.

This ASU was based on the workforce lines on the rubber estate about 2 miles South of Batu Gajah town. Their primary task was protection of the manager at all times, usually involving an escort of three or four men. Patrolling their area of responsibility was also of course important, but in view of the communist aim, to eliminate planters and tin miners, any manager could call on the mobile section for additional men, e.g. as payroll escort. The main fault in the system was the siting of the ASU bases in the rubber estates in which they patrolled. An ASU could not move without being spotted; any marine, soldier or policeman who has searched rubber estates will recall the warning cries ahead of him as he moved through the lines.

The area of responsibility for this team was North Changkat Chermin, an area well under the influence of a near-perfect Min Yuen system which was brought to an end by the efforts of Superintendant Mohd Pilus, Officer Commanding Police Circle Batu Gajah, and his team, in 1956.

To read more about Tom Turnbull, click here.

To read more about Auxiliary Police / Special Constables, click here.