We've tried to ensure the information displayed here is as accurate as possible. Should there be any inaccuracies, we would be grateful if you could let us know at info@ipohworld.org . All images and content are copyright.
(Please click on the thumbnail for a bigger image.)
Sultan Of Perak Parade To Mark The Appointment Of Sultan Idris Murshidul'adzam Shah To Knight Grand Cross Of The Royal Victorian Order
Thumbnail :
---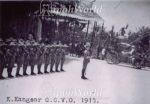 Subject :Sultan of Perak Parade to Mark the Appointment of Sultan Idris Murshidul'adzam Shah to Knight Grand Cross of the Royal Victorian Order
Source :
National Archives of Malaysia
Remark :
The Royal Victorian Order is an order of chivalry that was established by Queen Victoria on 21 April 1896. The Knight Grand Cross is the most senior of the order and membership is conferred on those who performed personal service for the Sovereign. People are appointed to the Order rather than awarded it. It carries the title 'Sir'.

Sultan Idris (b 1849) was the 28th Sultan of Perak from 1887 to his passing in 1916. He was appointed GCVO on 3 June 1913. The photograph, almost certainly taken by Raja Yaacob (Ya'qub), shows the formal parade that took place in Kuala Kangsar to mark the event. The photo shows an open vehicle with hood apparently leaving the shelter of a formal canopy and a military guard in attendance.

To see the second photograph in this series, click here.

To read more about Sultan Idris Murshidul'adzam Shah in this archive, click here.

To read more about Kuala Kangsar, click here.

More information on Sultan Idris may be found at http://www.geocities.com/aizaris/sultan28.html.