We've tried to ensure the information displayed here is as accurate as possible. Should there be any inaccuracies, we would be grateful if you could let us know at info@ipohworld.org . All images and content are copyright.
(Please click on the thumbnail for a bigger image.)
Liang Seng Fatt Sundry Shop, Ipoh
Thumbnail :
---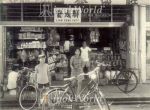 Subject :Liang Seng Fatt Sundry Shop, Ipoh
Location :
40 Jalan Lee Kwee Foh, Canning Garden, Ipoh
Source :
Ms Teoh Ai Lee, Ms Teoh Ai Choo, Ipoh
Remark :
Opened in 1960 as a newly built shophouse, this business has now been replaced by Arif Bookstore. The original shop was formed as a partnership of three local people and one of the partners, Mr Teoh Chin Lye is shown in the photograph. If anyone knows who the others in the picture are we would be pleased to hear.

Mr Teoh was born in Taiping, but moved to Ipoh with his father in 1939. He attended Ipoh Primary School and was waiting at home at the end of 1941 for his examination results when the Japanese bombs began to fall. He remembers the fear in everyone and that nobody knew where to run. He next recalls the Japanese entering Ipoh on their very small bicycles with (he believes) their 22inch frames.

After the war, in 1946, he opened his first shop Chan Aik Bicycle Repair Shop in Chamberlain Road, opposite the Majestic Cinema and in the late 50's sold this business to move to the above shop in Canning Garden. This picture was taken at 24.04.1972.