We've tried to ensure the information displayed here is as accurate as possible. Should there be any inaccuracies, we would be grateful if you could let us know at info@ipohworld.org . All images and content are copyright.
(Please click on the thumbnail for a bigger image.)
Berthel Michael Iversen, Architect
Thumbnail :
---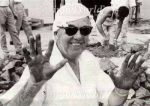 Subject :Berthel Michael Iversen, Architect
Location :
Malaya / Malaysia
Source :
Ruth Iversen Rollit, UK
Remark :
Berthel Michael Iversen was born in Copenhagen, Denmark in 1906. The seventh and youngest child in the family, he was christened Berthel, after the famous Danish sculptor Berthel Thorvaldsen. With a great passion for drawing, Iversen studied architecture at the Royal Academy in Copenhagen. He was tempted with an offer to explore the Far East by his elder brother Werner, who had been a planter in Malaya since 1918. Ten years later, Iversen did come to Malaya and began his career in two architectural firms before starting his own firm in Ipoh – Iversen, van Smitteren & Partners – in 1936.

Among the many famous landmark buildings which Iversen was responsible for (in Ipoh) were: the Grandstand at the Ipoh Race Course, five of the numerous cinema halls (Majestic, Rex, Ruby, Cathay and Lido) established by the Shaw Brothers, Jubilee Park, the Mercantile Bank, an art deco row of Fair Park Shophouses (now demolished), and the Lam Looking Bazaar. After setting up his own firm, he went on to design the Ipoh Swimming Club, the MCA Building and the Geological Survey Building in Ipoh; the Loke Yew Building in Kuala Lumpur; and the Chinese Swimming Club in Penang. He also designed prefabricated houses and private houses for the rich, government buildings, hospitals, schools, radio stations and churches.

In 1950, while recuperating from a kidney operation in Denmark, his design for a post office savings bank in Malaya won him a prize of $5000. This building was later launched in 1954 as the Federal House, in Kuala Lumpur, by the then British High Commissioner Donald MacGillvray. In 1966, Iversen decided to retire leaving his firm to his son Per and his Chinese partners. Iversen later died of cancer in 1976, in Copenhagen at the age of 70.

His daughter Ruth Iversen Rollit recalls that before leaving Ipoh, her father "hired a car and drove through the country" to say "goodbye to every nook and cranny". Both Iversen and his family had many fond memories of Ipoh. The Iversen family house (built by Iversen himself) was at No 110, Tambun Road (now demolished). Ruth remembers the sitting room in the house, which had a large desk. It was at this desk that her father would work on his masterpieces while listening to classical music and opera.

"When I was a child, my father would take us out for rides in his car in the evenings. We would go round the town and he would point out the houses he designed to us." Such were the "lessons in architecture" which Iversen shared with his family, and these same "lessons" are now part of Ipoh and Malaysia's history.

The picture shown is of BM Iversen, taken in Ipoh during a building inspection.