We've tried to ensure the information displayed here is as accurate as possible. Should there be any inaccuracies, we would be grateful if you could let us know at info@ipohworld.org . All images and content are copyright.
(Please click on the thumbnail for a bigger image.)
Press Cutting – Council All Set For Move
Thumbnail :
---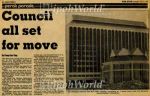 Subject :Press Cutting – Council All Set for Move
Published By :
Star Publications
Source :
Philip LaBrooy, Ipoh
Remark : The press cutting reports that the municipal council office will move into its new $18 million building in Greentown in August 1985. The building is expected to be completed by the middle of July, 1985. All departments besides the Parks and Gardens Department and the Town Superintendent's office would occupy the 11-storey building. It is understood that the council will set up a Public Relations Department to handle public complaints and liaise with the Press. The building will also have a squash court, table tennis hall for staff use, canteen, a two-storey council chamber and an 11-story tower block. In addition, $400000 have been spent to construct and improve several roads in Greentown to ease traffic flow.