We've tried to ensure the information displayed here is as accurate as possible. Should there be any inaccuracies, we would be grateful if you could let us know at info@ipohworld.org . All images and content are copyright.
(Please click on the thumbnail for a bigger image.)
Press Cutting – New Chapter For Perak Hydro
Thumbnail :
---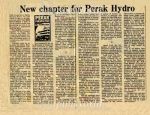 Subject :Press cutting – New Chapter for Perak Hydro
Published By :
News Straits Times Press
Source :
Philip LaBrooy, Ipoh
Remark :
The news cutting reports that the Perak River Hydro Electric Power Co. Ltd. is due to be integrated into the NEB. It is the biggest electricity supplier in the country outside NEB. The growing demand for electricity, not only domestically but also for new industries and housing, has increased its sales. The company was initiated in 1925 by the Sultan of Perak, the late Sultan Iskandar Shah, in the development of electricity supply. The company was registered in London and the formal concession agreement under which the company operates was granted approval on Nov 5, 1926. In 1976, its 50-year lease expired and the Federal Government were thinking of ways to take over the company. The concession agreement signed in 1926 already provided a way for the take-over by the Government but this however would have been too expensive.

Financial Minister, Tengku Razaleigh came out with a plan that saved the Government from paying an extra $100 million. Instead of going through the procedure, he formed Chenderoh Electricity (M) Sdn. Bhd, a holding company which went to London, bought over the majority shares and the Government thus became virtually the owners of Perak Hydro and managed to save the extra money.

From the time of its birth the Perak Hydro has achieved many remarkable engineering feats. The Chenderoh dam was the first to be built in the Far East utilizing hydro power which had become the most important source of energy in the light of the petroleum crisis. Work on the construction of the dam started in 1927. After the dam was built, Perak Hydro continued to expand and more power stations were put up at Batu Gajah. In 1964, NEB gave approval to the company for a further 40000 kw extension at Malim Nawar. In addition, the company was also involved in an $8 million and a $50 million project to more power and to overcome any oil shortage. It is clear that there is much more to expect from the company whether it exists as it is or is integrated into the NEB. However the staff hopes that the integration is smooth and nobody wants to loose out in any such exercise. The Perak Hydro Emplyees' Union supports the move and their perspective is that the employees are part and parcel of a prosperous company which is proposed to be taken over as a growing concern.

To read about the Perak River Hydro-Electric Power Company Ltd, click here.