We've tried to ensure the information displayed here is as accurate as possible. Should there be any inaccuracies, we would be grateful if you could let us know at info@ipohworld.org . All images and content are copyright.
(Please click on the thumbnail for a bigger image.)
H W LaBrooy's Family, Ipoh
Thumbnail :
---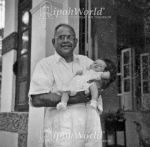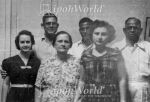 Subject :H W LaBrooy's Family, Ipoh
Remark :
H W LaBrooy was an engineer in Ipoh in the 1900s. He was one of five brothers in his family; one of his brothers, C H LaBrooy who was an architect, also served in Ipoh in the 1900s. The LaBrooys are Dutch Burghers - an ethnic group historically from Sri Lanka, which consisted of male-line descendants of European colonists (from Portugal, Holland, Germany and Britain), and local women (and some minorities from Sweden, Norway, France and Ireland). Historically, the Burgher communities spoke creole (based on Portuguese and Sinhala), but today the mother tongue is English.

The following is a short history of H W LaBrooy, by his grandson Philip LaBrooy:


"H W LaBrooy was more involved in engineering and machinery work in and around Ipoh and Perak state, for the many mines and estates that were being established in those early days.

He was involved mainly in hardware, and did supply and installation of the many pumps, machinery and boilers and related engineering works involved for these mines and estates, which also involved the purchasing and transporting of some of this machinery and equipment from Singapore by ship. He also did construction work on the massive water supply pipelines from the hills in Gopeng and Kampar to the mines on the lowlands of the Kinta Valley.

He was also involved in construction and installation work for the power stations in Malim Nawar and Batu Gajah for the Perak River Hydro Electric Power Company, as well as mines in Tanjung Rambutan and Taiping areas. For some time, he also worked as a sales engineer for the Kyle Palmer Co in Belfield St. He was also involved in the construction of the Birch Memorial Clocktower and many of the large metal structures of the workshops and foundries in Falim and Menglembu areas. In later years he worked on tin dredges in Malim Nawar, up till his 70's.

H W had 3 children, 2 sons born in Malaya, and a daughter born in India. Of the next generation, H W's son C H J (Pat) LaBrooy, was actively involved in Ipoh and Perak, working for a total of 40 years in the Perak River Hydro Electric Power Co. He served in Batu Gajah, starting as an apprentice, and later mainly in Ipoh, until his retirement as the Senior Systems Operation Engineer, the highest local position in the company, overseeing electric generation and distribution in Perak.

H W LaBrooy is today survived by 2 daughters in law with their 3 sons and grandchildren, in Ipoh and Kelang, and 1 grandson and his family in Australia."

We thank Philip LaBrooy for the above details.

The picture on the left shows H W LaBrooy, in 1950, with his 1st grandson Stephen. This picture was taken at No.6, Dulcieville Lane, Ipoh.

The picture in the centre shows Mrs Ruby LaBrooy (nee Legge), the wife of H W Labrooy. Mr and Mrs H W LaBrooy had 3 children - Pat LaBrooy, Pamela LaBrooy and Noel LaBrooy. Incidentally, Ruby's sister Daisy Legge was married to C H LaBrooy (H W LaBrooy's brother).

The picture on the right was taken in 1949:


Back row, left to right: Pat LaBrooy, Noel LaBrooy, and H W LaBrooy

Front row, left to right: Lenore Jumeaux (wife of Pat LaBrooy), Mrs Ruby LaBrooy, and Pamela LaBrooy.
To read more about C H LaBrooy, click here.