We've tried to ensure the information displayed here is as accurate as possible. Should there be any inaccuracies, we would be grateful if you could let us know at info@ipohworld.org . All images and content are copyright.
(Please click on the thumbnail for a bigger image.)
Leong Chee Woh – CT Ambush In Betong (Thailand)
Thumbnail :
---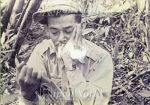 Subject :Leong Chee Woh – CT Ambush in Betong (Thailand)
Location :
Betong, Thailand
Remark :
The picture shows Leong Chee Woh, during his days as the Deputy Superintendent of Police. In the picture, he is seen using a geophone (newly invented by the Yanks) to detect ground movement; this was during an ambush of CTs (Communist Terrorists) in the jungles of Betong, Thailand, in 1965.

To read about Datuk Leong Chee Woh, click here.