We've tried to ensure the information displayed here is as accurate as possible. Should there be any inaccuracies, we would be grateful if you could let us know at info@ipohworld.org . All images and content are copyright.
(Please click on the thumbnail for a bigger image.)
Mr & Mrs C H LaBrooy, And 'Dulcieville'
Thumbnail :
---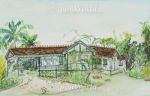 Subject :Mr & Mrs C H LaBrooy, and 'Dulcieville'
Location :
c h Labrooy Dulcieville Lane, Ipoh
Source :
donated by Philip Labrooy, Ipoh
Remark :
The picture on the left shows an oil painting of Claude Henry LaBrooy (CH). The picture in the centre is of his wife Leila Dulcie (Daisy) Legge, which was taken in the 1920s. The third picture (right) is a watercolour painting of 'Dulcieville' - the residence of the LaBrooys. The picture was painted by Mary Cooke, one of the grand daughters of C H LaBrooy.

His grand nephew, Philip LaBrooy, has provided us with a brief history of C H LaBrooy:


"Of the five LaBrooy brothers who came out to the then Malaya, only two, namely C H LaBrooy and his younger brother H W LaBrooy, were associated with Ipoh and Perak state. The family, together with possibly two sisters, migrated here [Malaya] from Ceylon.

C H LaBrooy was mainly an architect and developer, whereas H W LaBrooy was an engineer and contractor. Both C H and H W were married to sisters, who were the daughters of Captain J A Legge. C H married his wife [Daisy Legge] in India and later brought his sister in law [Ruby Legge] to marry his brother H W in Ipoh.

C H LaBrooy initially worked in the naval dockyards in Singapore, where he picked up his skills, after which he worked for a company involved in the construction of the railway from north to south of the peninsular. This is where he probably discovered Ipoh, and subsequently settled there. He probably brought H W and the others there later.

C H was working for the Ipoh Town Board for a time doing draughting wor,k and sometime later went his own way - doing work for the many rich Chinese around at that time. Some of the work that he was involved in was: the Freemasonry Lodge in Maxwell Road (used temporarily by Anderson School for Primary Standard One and Two classes when their first premises at Douglas Road became overcrowded); the Central Police statio; old town Mosque; and much of the Terraced roof courtyard shop houses along the New Town area. He was also involved with the government quarters housing, which took up most of the Greentown area. He was also involved in developing his own residential areas and land; some of which was at Dulcieville Lane, along LaBrooy Road, Idris Gardens, parts of Tiger Lane and Golf Club Rd.

LaBrooy also had 9 godowns in the Cherry Park area, where he had spent a considerable sum to fill with sand, as this was a swamp at that time. He was also the owner of a rubber estate on the outskirts of Ipoh. He later owned the Caxton Press along Belfield St. His family later went on to own and develop the LaBrooy House building on Post Office Rd.

C H LaBrooy had 5 children, 4 daughters and a son, some of whom were born in India and the rest in Ipoh. Most of the children and grandchildren of C H LaBrooy migrated and settled overseas over the years, and today he is survived by only 1 daughter with her 2 children and grandchildren, and another granddaughter and her children in the UK, 2 grandsons and great-grandchildren in Australia, and 1 last grandson in Ipoh."

We thank Philip LaBrooy for the above details.
From an article in the Singapore Standard (dated 23 January 1958), C H Labrooy passed away at his home in Dulcieville, on the afternoon of 22 January 1958. He was 83.


To read more about H W LaBrooy, click here.

To read more about Dr John A Legge, click here.