We've tried to ensure the information displayed here is as accurate as possible. Should there be any inaccuracies, we would be grateful if you could let us know at info@ipohworld.org . All images and content are copyright.
(Please click on the thumbnail for a bigger image.)
Kuomintang Membership Card
Thumbnail :
---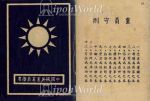 Default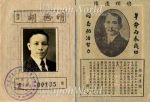 Subject :Kuomintang Membership Card
Source :
Ian Anderson, Ipoh
Remark :
The pictures show a membership card of the Kuomintang Party (the National Peoples Party). The Kuomintang was founded in the early 1900's by Sun Yat-Sen and Song Jiaoren, after the Xinhai Revolution in China.

The picture on the left shows the front of the membership card. The flag of the Kuomintang (left of the picture) is made up of a 12-ray sun set on a blue background; 12 being the 12 traditional Chinese hours of the day, hence symbolising the spirit of progress.

The picture on the right shows the inside of the membership card; with a picture of Kuomintang founder Sun Yat-sen (right) and a party member (left). The name of this member is unknown to us, while the year this card was issued is a rough estimation.

To see pictures of a Kuomintang Parade (in Ipoh), click here.